Twelve!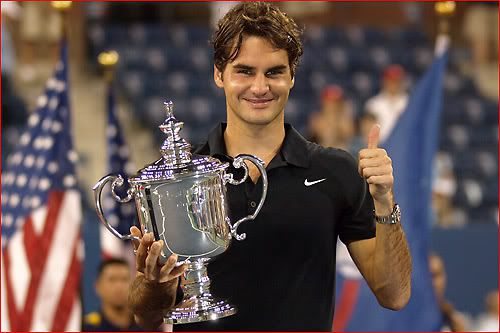 (1) Roger Federer SUI sends (3) Novak Djokovic SRB to Djoker-ville with a 7-6, 7-6, 6-4 win. The win marks Federer's fourth consecutive US Open title. A feat no one has ever achieved since Bill Tilden in the 1920's. This is also Federer's twelfth Grand Slam title-- just two titles short of Pete Sampras' record of 14.
Honestly, the quality of tennis produced in this final was subpar. Federer played his B-game and did not find his range throughout the match. Djokovic meanwhile, choked at the most crucial situations and squandered a handful of set points in the first set. I expected more from these two guys.
This was a snooze fest compared to the Wimbledon final against Nadal (Where I was forced to watch HP4 in HBO when I couldn't handle the tension in the fourth set). I didn't even feel nervous. I was never in doubt that Federer was going to win this one.
I'm happy that Roger won but it would be better if it was Nadal who got ass-raped on the other side of the net.
***
Meanwhile, Maria Sharapova and Robert De Niro was spotted in Djokovic' player's box. I never knew they were acquainted let alone friends. I don't think Ana Ivanovic would be very pleased with that. Bwahaha!
As expected, camera lenses were zooming on Sharapova whenever there's a chance. You know why?
Maria Sharapova = TV Ratings. (TV ratings for this year's women's final was down by 13% from last year's where Sharapova won.)
***
By winning the title along with the US Open series, Federer received 2.4 million US dollars and a new Lexus car--not shabby at all.
Roger, you next mission is: Win Roland Garros '08, dammit.